BRING YOUR HUNT
TO A

NEXT

LEVEL.

Hunter GS7 precisely pinpoints location of different metals at a deep level.
Equipped with a powerful coil that gets objects beneath the ground up to 17" deep.
Hunter will detect what you searching for.
High-Sense & Precision
Hunter GS7 is well-rated among the best metal detectors currently available on the market. Never miss a thing!
Audio Alert & Pointer Indicator
Audio alert and Pointer indicator will notify if you found something.
Adjustable Stem
The adjustable stem lets you adjust Hunter's length for comfortable use.

Headphone Socket
Easily plug in your Headphones to hear everything clearer while you hunt.
Clever Interface
Modern & Clever interface will help you see how close you are to an object.

Elbow Support
Handle and elbow support lets you carry and operate your detector at ease.

Volume Control
With the volume control knob, you can adjust the output volume of the loudspeaker or headphones.
8-Inch Circular Waterproof
Search Coil
Don't be afraid to use Hunter after or even during the rain! Hunter's Resistant Waterproof Coil will not get damaged during your hunt.
Adjustable
Target Indicator
Description Here.
Some Description appears here.
Some Description appears here.
Some Description appears here.
Hunter's

Strafe

Display
Target Indicator
| Spec | Attribute |
| --- | --- |
| Frequency | 6KHz |
| Voltage Range | 7.2~9.6v |
| Sensitivity | 7.09 inches |
| Detection | Ferrous and Non-Ferrous metals (Iron, Aluminum, Gold, Silver) |
| Headphone Jack | 3.5mm |
| Battery Type | 9V |
| Coil Diameter | 8 inches |
| Adjustable Length | 30-43 inches |
| Detection Depth | 12 inches |
| Speaker | Present |
| Package Dimensions | 19 x 8.74 x 4.33 inches |
| Product Weight | 12oz |
Customer Reviews
I recommend this product
Everything works fine super fast shipping would definitely recommend!
I recommend this product
Works really well. Very satisfied.
I recommend this product
It came quite quickly and whole, packaging branded. For such a small price on the design of the external quality of manufacture is simply excellent. The settings are of course minimal, so far I could only twist so that only coins can react on the concrete floor, and not reinforcement, I think on the ground the signal will be cleaner when I get to the real cop I'll add a tip.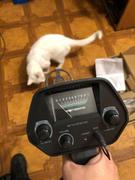 I recommend this product
The detector is working, it's a comfortable and durable handle, reliable Rod lock. Delivered in no time. Having a great family time with it!
I recommend this product
Received the Hunter yesterday and we already found a bunch of stuff in our backyard! Fun!
I recommend this product
Great product. And I wouldn't purchase it from anyone else.
I recommend this product
Very quickly and quickly everything is done, seller recommend, I will still order.